Summer Make Up :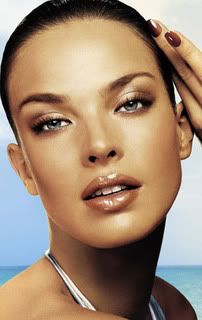 Staying cool but looking hot is the name of the game this summer. But, how do you pull this off? Here are some suggestions to at least make you look cool! Lets start with our makeup.

Summer makeup is minimal. You should be able to see your features at their best. We shouldn't see your makeup. Use cosmetics to play up your features.

If you really need to even out your skin tones, apply foundation with a damp sponge. It will go on evenly and no streaks to ruin the effect.

*Tinted moisturizer is another possibility for adding just a little color to that pale complexion.

Now lets move to the cheeks. There are so many colors to choose from, choosing the right one can be incredibly difficult. Here is a little trick that I learned a few years ago...
pull down your bottom lip and look at the color of the skin. That is your natural blush color.

Eye shadow is another one of my loves and the best colors for summer are warm shades. A touch of bronze or coral seems to work well for just a touch of "polish" to the lids.

Mascara is still a must for me but again, use it with care. We sometimes forget that the purpose of this product is to darken/thicken the lashline. Spidery looking lashes are out this summer. One coat should be enough.

Instead of a heavy lipstick, opt for a lip gloss with a smidgen of color. Nude lips look so much more natural. Coloring with a pencil and then applying a layer of lip gloss should do the trick.

Now that all of your makeup is in place, it is time to recheck your blush. Chances are you might need a little more.

So that's it, your summer makeup is perfect. In fact most people won't even realize that you are wearing any at all. They will simply think that you were born that way!

Summer Makeup Tips with Clinique Makeup Artist, Laura Mohberg
"After a day spent in the sun, skin takes on a richer, deeper appearance. Pinkish undertones can be seen in the cheek and lip area. It's you with a dash of colour. This is the Kiss of Bronze collection -a selection of sheers for lips and face that mimics natural sun-splashed skin tones."

1 CREATE A LIGHTWEIGHT BASE
Smooth on a sheer foundation or tinted moisturizer such as Clinique's Moisture Sheer Tints SPF 15 followed by a translucent powder to set foundation, and then add a dusting of powder bronzer.


2 BRING ON THE BRONZE
Concentrate bronzers where the sun would naturally hit the skin to warm up your face. These areas include the forehead, cheeks, chin and tip of the nose.

Insider Info:
# Pressed powders such as Clinique's True Bronze Pressed Powder allow for a buildable application so you can apply as much or as little as you want to acquire the warmth or depth you are trying to achieve. **Bronzers should be sheer and not too heavy or obvious.
# Use a brush, like Clinique's Bronzer / Blender Brush which is designed to be used with bronzers to ensure even application. The Technique: Dip the brush into the bronzer powder, swirl, knock off excess powder and apply.


3 HIGHLIGHTS
The Shimmering Tones Powder should be layered on next to add glowing highlights and pull the look together. Sweep over the eyelid, and highlight brow bone, bridge of nose and the top of your cheekbone.


4 SULTRY, SHINY LIPS
First, line lips and fill in with Clinique's Sheer Shaper for Lips to add natural definition. You don't want an obvious "lined" lip look. Next, apply one of the NEW Colour Surge Butter Shine sheer lipsticks and layer a coat of Glosswear for Lips for a super wet look.

Insider Info:
# Use the new Clinique Lip Brush to press and blend the lipstick and lip gloss onto the lip. This will result in a remarkably smooth and even look.


HELPFUL HINTS
# A creamy sheer pink blush will give cheeks a natural fleshy undertone and add a little colour to your bronzed look.
# If you are olive skinned, definitely use pinkish shades for lips and cheeks.
# Darker skin tones that have more depth should concentrate on highlights to create dimension especially in areas like the top of the cheekbones.